So SEO – Search Engine Optimization.
You've heard this acronym before (if not, check out this post), and you might know that it means improving performance on search engines. You do know that it is the staple of digital marketing. That it helps bring more leads, but there are so many websites there, all saying similar things. How do you get readers' attention? SEO is the easy answer. How Writing Online Feels Sometimes
But how does SEO work? Doesn't SEO take secret skills, black hat tactics, and years of training?
The answer is .... "it used to be", "kind of", and "no".
It Used To Be
The history of SEO is short but dense. We can sum it up like this:
Before Google, you could spam a page full of keywords to get picked up by search engines. People liked to do this. A lot.
Around 2005, Google clamped down on keyword spamming and began to rank for personalization, content quality, and user experience. People started liking Google because of these features. Newer Google updates focus on local information, mobile friendliness, and structuring data for quicker responses.
So most covert tactics don't work well anymore. If someone does have a way to trick the system, Google updates their algorithm 1-2 times a day and almost always catches them. Think if robocop had access to all data and cared about spam instead of crime.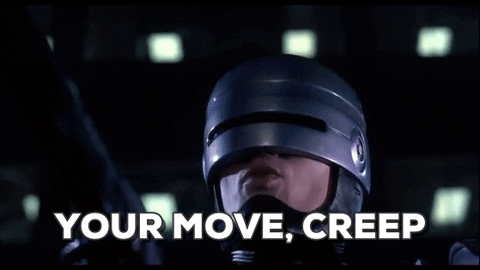 How Google feels about Spam.
Kind of
Structuring data, providing localized responses, alt-tags on images, and many more website updates will increase your search results. In fact, there are dozens (sometimes over 100) of improvements to be made on sites and their search rankings. These could be everything from correct font sizes, the types of files you store images in, or how you use open graph tags.
But you shouldn't worry about making every single improvement. While serious SEO audits are useful and boost page rankings, it takes some serious effort and time.
No
People (like us!) get paid to boost websites SEO. It's a long process that takes time and continual check ups.
But doing your own SEO falls into the 80/20 rule. Just like what your dad taught you: Do a man's SEO, you improve his website for a day. Teach a man to do SEO, and you improve his website as long as he pays his hosting fees.
Doing 20 percent of SEO work will yield 80 percent of the results. If you follow a few rules and make a few updates, you'll make a markable improvement in your website.
Simple rule: Good SEO is Constant SEO
How Do you Improve Your Own SEO?
The Google's algorithm has gotten so good that it knows what makes a site useful. So no matter what, the golden rule of SEO has become pretty similar to any other business: give the visitor what they want.
Users should understand what kind of content is on your site before they click. They should find information they look for and enjoy the experience. Likewise, if your website turns people away, Google will recognize that you don't give people what they want.
Here are three quick tips that are real heavy hitters in the SEO world. And if you want more tips on SEO, check out our post 5 Minute Read: 3 SEO Tips You Can Use Right Now.
Optimizing Page Titles
Great page titles are all about choosing the right keywords for your business. Keywords are the terms that internet users type when searching for answers.
The best optimized page titles will be as specific as possible to the content, use a high-ranking keyword, and generate interest. It's also important not to overdo keywords and make titles seem unnatural.
Here are a few examples:
Good: "Five Tips for Making your Bouncy Castle Birthday Afloat"
Bad: "All About Bouncy Castles"
Very Bad: "Bouncy Castle Birthday Party Tips for Bouncy Castles. Bouncy Castle!"
Here are 5 more tips for optimizing SEO on your next lunch break.
Meta Descriptions
A meta description is the little snippet of information below the url of search results. Its purpose is to give a brief synopsis of the page behind the link. The keyword matches between your search and the page are bolded to help you decide if the result is applicable.
Your meta description should ask and answer the searcher's question in an interesting and unique way that makes a reader want to click through to your page. Again, don't cram it full of keywords or it will turn a smart internet user away, and make sure to keep it under 155 characters or it will be cut off.
Topic Clusters
You will want to regularly test how different keywords perform on your site. If you keep track of your site on Google Webmaster, you'll start to see what keywords are best for your site.
After producing more and more content, you may start to notice that your website can easily become bloated with repetitive material that focuses on different keywords. Bloating can negatively impact your search engine performance. To stop your site from being a keyword jumble, you can use topic clusters.
A topic cluster is a tool that is used in the architecture of your site where you can group your content around central themes, making it easier for web crawlers to make connections on your site and have your content upfront and trusted by internet bots and humans alike.
We have a longer post on using topic clusters here. Also, if you're trying to boost yourself locally, check out our post on local, voice, and visual search.
If you want to get some personal recommendations to improve your rankings, get a free audit of your site by some of the best SEO professionals out there.
Let us curate the internet for you.
Give us a few deets and we'll send you insights every week.